The first phase of Gbugbu international market in Edu local government area of Kwara state is ready for delivery, this is according to the state governor AbdulRahman AbdulRazaq after he inspected the market.
Gbugbu, a town in Edu local government, is a historic trading melting pot bringing together peoples from across West Africa sub-region.
The first phase of the project comprises 200 open stores and 22 lock-up shops — complete with electrical fittings and water, sanitation and hygiene (WASH) facilities to maintain a healthier trading environment.
Advertisement

The Governor said the delivery of the project is satisfactory, adding that the next two phases will include abattoir, police station, fire station, car park, administrative office, among others.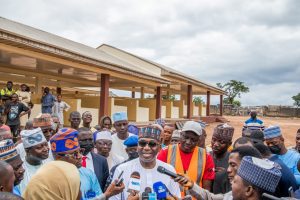 He noted that all the phases of the project will gulp N1.5bn according to government's design, adding that the market will have multiplier effects on the local economy
"Gbugbu is known for trade from its inception. It is a resilient community. People come from Lafiagi, Patigi and other places like Niger State and from across Nigeria and beyond to trade here," the Governor told reporters during the inspection visit.
"We are not operating a concentric government where development will be concentrated at the centre alone.
"Gbugbu is 2-hour drive from Ilorin, the State capital. It shows that every locality and local government is impacted from our investment as a government. We are not forgetting any community, and Gbugbu is part of Kwara and deserves proper investments," he added.
AbdulRazaq said with some other industries such as BUA Sugar factory coming on board, Gbugbu market will benefit a lot and Edu as a whole is poised to become a very rich local government in the State.
Gbugbu International Market Site Engineer, Yisa Gisang, said the market is divided into three phases with the first phase already completed, assuring the peple of Kwara state that the phase one will be delivered for use on Tuesday.
He explained that the construction project was executed to meet the international standard and according to specifications.