NASA has canceled the launch of its new moon rocket Artemis I after fuel leaks were discovered just an hour before the launch.
NASA announced on Monday that the launch had been canceled due to "engine bleed" after the rocket had been substantially fueled.
NASA's official broadcast said, Engineers are gathering information "about this particular engine and the bleed that didn't work out."
Advertisement

The launch was frozen at T-40 minutes at the Kennedy Space Center in Florida as NASA officials discussed how to address leaks that were discovered during fueling.
The rocket has yet to be drained of the hydrogen fuel to allow engineers to gather as much data as possible.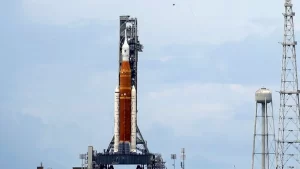 The launch might take place as early as 12:48 p.m. local time (1648 GMT) on Sept. 2, but NASA must first devise a strategy to handle the "engine bleed."
The planned launch was slated to include an un-crewed flight test ahead of human lunar exploration planned under the Artemis program.
The capsule is set to fly as close as 60 miles (97 kilometers) to the moon's surface before taking a wider orbit. Mannequins with high-tech monitors are riding in place of humans and will send critical data back to NASA, including on radiation levels, one of the most significant threats to astronauts in deep space.
The SLS rocket is the most powerful developed by the US, and has been the cause of major cost overruns, upping the pressure on NASA to carry out a successful launch.
The test is a critical step in the space agency's plans to resume manned lunar exploration missions, and is slated to provide the space agency with a foundation for a human presence on the moon. NASA plans to build a base camp on the lunar surface for a long-term human presence.
NASA has not sent a manned mission to the moon in nearly 50 years but hopes to send four astronauts around the moon in 2024 and land humans there as early as 2025.