The federal government has declared a national emergency on the high rate of crude oil theft.
Minister of State for Petroleum, Timipre Sylva disclosed this during a visit to the governor of Delta state, Ifeanyi Okowa.
Advertisement

He added that a national emergency on oil theft had to be declared especially as the nation had not been able to meet its OPEC production daily quota.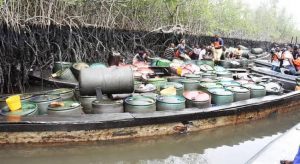 "Our production has dropped drastically to very unsustainable levels; so, we have decided to take the bull by the horn by putting some structures in place and those structures cannot function effectively without the collaboration of the state government," the minister said.
Timipre Silva was accompanied by the Chief of Defence Staff, General Lucky Irabor and the Group General Manager of NNPC Mele Kyari who revealed more about the present situation of things which is necessitating a drastic action.
Crude oil theft in Nigeria, according to research, has increased to a daily average of 108,000 barrels.
Governor Okowa, state that the level of criminality has reached such alarming proportions that it demands all available resources and coordination to combat.
He noted that it was frequently difficult to secure the facilities, particularly when the people handed the contracts lacked basic environmental knowledge or do not have the support of host communities.
The Federal Government and NNPC have set up strategy of how to stop the revenue loss of $1.9 Billion and seeks the support of state governments.
It is hoped that this effort would be sustained and that everyone responsible, no matter how high-ranking, will be held accountable in order for the country to profit from the high price of crude oil in the international market.