President Muhammadu Buhari has been commended for funding the COVID-19 interventions that are now yielding results in Healthcare delivery across the various healthcare delivery centres.
The Medical Director of the federal Neuro Psychiatric Hospital, Sokoto Professor Shehu Sale, made the commendation during interview with the newsmen in Sokoto revealing that the Federal Government had funded new major projects in its COVID-19 interventions.
Professor Sale, a Consultant Psychiatrist also commended the Minister of State for Health, Senator Adele Mamora, for the support toward achieving the successes in the hospital.
He listed the projects to include; construction and equipping of intensive care unit, construction and equipping of molecular laboratory, construction and equipping of isolation centre and procurement of Personal Protective Equipment (PPE).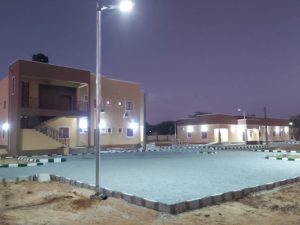 He said the projects are already impacting positively on service delivery and protection of both staff and patients of the hospital.
According to him, the projects would also deliver improved healthcare to the hard-to-reach communities in line with the Federal Government's commitment to the provision of Essential Healthcare Services.
He said the completed advanced molecular laboratory is designed to carry out basic and advanced diagnostic testing for communicable and non-communicable diseases.
The Professor said , the set up as a Biosafety Level III (BSL III) Laboratory, is capable of handling testing of infectious diseases of public health concerns such as various strains of Coronaviruses, Ebola Virus as well as Lassa Virus.
According to him, early detection of these infections is of paramount importance to curb the spread of these potentially deleterious organisms.
Professor Sale the advance molecular test laboratory is meant for COVID-19 test in the hospital as well as other viruses and high precision test, which before now the hospital have to source such service in sister federal hospital at a fee '', Sale said.
The Medical Director added that beside detection of infections, the laboratory is equipped with fully automated Chemistry, Immunology, Haematology and Microbiology equipment that would be used to carry out supportive testing required in the treatment of patients on Isolation and those in critical care.
He also explained that the newly constructed Intensive Care Unit (ICU) had been equipped with the state-of-the-art medical equipment to attend to the care of both Paediatric and Adult patients requiring intensive care services.
Ultrasonography is also available at bedside service using mobile ultrasound machine. There is also a mobile digital X-ray machine stationed in the ICU for radiological investigation of COVID-19 infected patients who develop complications like respiratory(chest) infections or difficulties that will require an urgent x-ray of the chest.