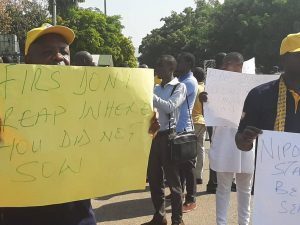 The Nigeria Postal Service Workers have staged a peaceful protest to the National Assembly demanding that the mandate of the Service as a collecting agency be sustained.
They said the provisions of the Stamp Duties Act and the NIPOST Act give the sole power to collect stamp duties to NIPOST.
The workers accused the Finance Minister and the Federal Inland Revenue Service of a plot to take over NIPOST's core mandate.
The Nigerian Senate assured the workers it will do everything within its reach to protect their interest as it carries out its legislative duties.