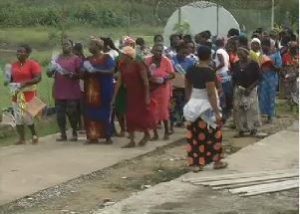 Women of Koluama One and Two communities in Southern Ijaw Local Government Area have shutdown a flow station belonging to Conoil in the area.
The women allege a flagrant breach of a Memorandum Of Understanding after eight years of operations in their communities.
Advertisement

Gas flaring into the sky indicates that we were close to the Conoil flow station in Koluama.
The women broke into a song as they approach the facility, and with ease they gain entrance chanting songs of disaffection with the oil company.
Advertisement

Lamentations and allegations of broken promises sum up the mindset of the women of Koluama dogged in their resolve to occupy the flow station.
A staff of the company reacts to the disruption of operations at the flow station.
Advertisement