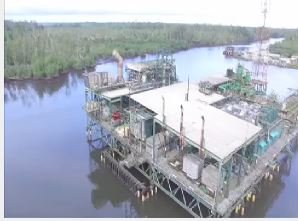 Oil exploration is set to resume at the OML 25 flow station in Rivers State two years after it was shut down by host communities following the outcome of Federal Government's intervention into the protracted crisis.
Correspondent Uche Okoro reports that in august 2017, host communities of Oil Mining Lease 25, Belema, Offoin-Ama, Ngeje shut down its operations.
Their aim was to compel SPDC to show more corporate social responsibility in developing their communities. But this was the mood in Kula Community, Akuku-Toru Local Government Area, when news that month's of protest for better living conditions had yielded positive results.
It was all in reaction to a peace agreement brokered by the Nigerian National Petroleum Cooperation, NNPC and the Ministry of Petroleum resources between SPDC and Belemaoil Producing Limited.
With this peace deal comes high expectations from community members who lament that they have been impoverished by more than 30 years of oil exploration.
This deal is seen as a win-win situation for all parties hence stakeholders and community leaders have appealed to the people to embrace peace and work together.