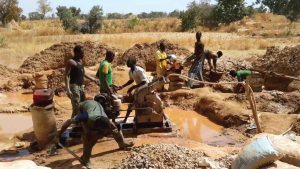 The federal government has reaffirmed its readiness to further develop the steel and mining sector of the country's economy. The Minister of Steel and Mining Development, Olamilekan Adegbite made this known while speaking at the International Conference of the Nigerian society of Mining Engineers.
TVC News Kazeem Olowe that according to the National bureau of statistics, Nigeria imported 23 trillion Naira worth of Iron and Steel between year 2001 and 2010 and more than 17 metric tons of iron and steel this year.
This development seems to have prompted stakeholders in the industry to seek rejuvenation of the mining sector, especially the Ajaokuta steel
company in line with the economic recovery drive of the Federal government
The Minister for Mines and Steel Development, who was represented at the event, highlighted some of the initiatives introduced by the federal
government said the government is taking bold steps in the sector.
Advertisement

Participants say looking in the direction of mining and solid mineral development as a way of diversifying the nation's economy from over
dependence on oil appears to be a good idea and one of the ways to help the country out of the current economic challenges.
Implementing this and making a success out of it however require determination.