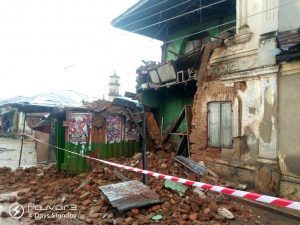 The Lagos State Emergency Management Agency, LASEMA, has recommended full implementation of the existing law on collapsed building in Lagos State.
The law stipulates not only removal of debris after rescue, but seizure of such property for constituting risk to other residents. This recommendations came after Ita Elewa, Ikorodu collapsed building incident which immediate cause was attributed to the heavy downpour.
Further investigations revealed that aside the heavy downpour, the obviously old building constructed with mud bricks, had been seriously distressed over time with visible cracks.
Parts of the old storey building which collapsed this morning at Rademo Street, behind recreation centre, Ita Elewa Ikorodu, has so far not recorded any loss of life.
In order to avert danger to adjoining buildings and other users of the environment, LASEMA has recommended that it's remains be pulled down down.