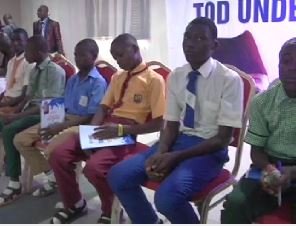 Funding is one of the major challenges confronting the growth of education in Nigeria and to promote qualitative education and access to education, communities and groups must support the government.
The Former Vice Chancellor of University of Lagos, Rahmon Bello made this known in Ilaro at the Tolu Odebiyi's Scholarship Awards and Debate Competition for Ogun West Indigenes.
TVC News Kazeem Olowe reports that Education remains a strategic tool for a country to build a better future and for any society to produce leaders that can contribute positively to the growth of the country, it must invest in the Education of its people.
Working towards building a secured future for the People of Ogun West Senatorial district in the Gateway State, a non Governmental organization,
Tolu Odebiyi foundation has organised Scholarship Awards and debate competition among senior secondary Schools in the the zone.
Advertisement

The foundation considered fifty undergraduates for scholarships to study in different universities across the country.
Speaking about the significance of the programme to the educational development in Ogun West, a former Vice Chancellor of University of Lagos,
Rahmon Bello said the programme will assist many future leaders in achieving their dreams.
On his part, the promoter of the foundation said he would continue to invest in education development and assist the indigent students.
Association of Students from Ogun West also used the opportunity of the occasion to honour the man behind the scholarship Awards
Advertisement