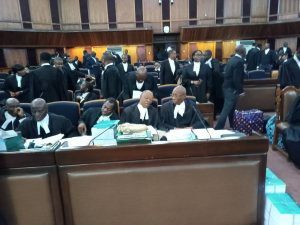 The seven-man panel of the Supreme Court lead by Justice Tanko Muhammad scheduled to hear the appeals in respect of the case instituted by the Peoples Democratic Party and its presidential candidate, Atiku Abubakar, has taken a short break.
Mr Atiku and his party had jointly filed their appeal before the apex court to challenge the September 11, 2019 judgment of the Justice Mohammed Garba-led Presidential Election Petition Tribunal.
The tribunal's judgment which Atiku and his party are dissatisfied with had dismissed their petition challenging the outcome of the February 23, 2019 poll.
Subsequently, the petitioners on September 23, 2019, filed 66 grounds of appeal before the Supreme Court to challenge the judgment of the tribunal.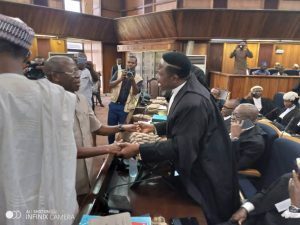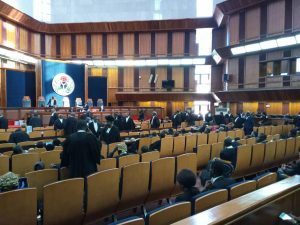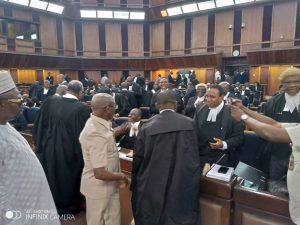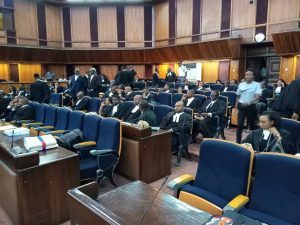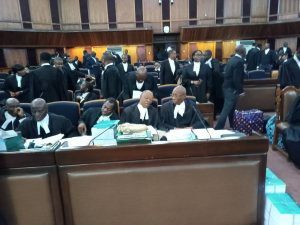 Counsel to the PDP said that there is no testimonial of the president from the secondary school he claimed to have attended, and no certificate of him being an officer cadet in the Nigerian army.
He said there is no affidavit explaining the discrepancies in the name of the president in the form he submitted to INEC bearing "MOHAMED" while his name is "MUHAMMADU"
Counsel to INEC, Yunus Usman in his argument, held that the appellant have failed woefully to prove that the appellant scores majority of lawful votes cast at the election out of the 191,000 polling booth in the federation. He said the appellant called only 5 polling unit agent to prove that he scored majority of votes cast at the election.
On the issue of server, Counsel to INEC said the commission never transmitted any result to the server. He held that unless the National Assembly amends the electoral act, INEC cannot transmit result electronically.