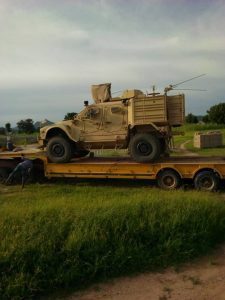 A Joint Security Operatives has intercepted six Mine Resistant Military Vehicles in Konkol, a borderline village in Maiha Local Government Area of Adamawa State, between Nigeria and Cameroon. lying along the borderline between Nigeria and the Republic of Cameroon.
The military vehicles are believed to belong to USA and were actually headed for the Republic of Niger.
Officers of 23 army Battalion who intercepted the strange military vehicles have already handed them over to the Nigerian Customs Service for further investigation. The vehicles was received by Mr Kamardeen Olumoh, Customs Area Comptroller for Adamawa/Taraba command.
TVC News gathered that the military high command in Abuja has directed an urgent investigation into the discovery, just as the equipment are currently at Customs area command in Yola.
But sources within the Nigeria Customs who do not want to be named have told tvc news that the 6 mine resistant equipment have been shifted to command office in Yola.