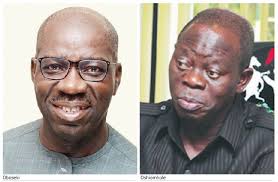 Mixed reactions have continued to trail the crisis rocking the house of Assembly three months after it should have fully resumed for the new tenure.The crisis which started in June, over the inauguration of only nine of the twenty-four lawmakers elected, is yet unresolved, as parties are yet to sheath their swords.
Paul Ezenwa reports that the order by both chambers of the National Assembly subsequently prompted the state lawmakers Government to approach the court and obtained an order against the National assembly restraining them from taking over the legislative duties of the state assembly, pending the determination of the suit.
This situation has sharply divided the people. While some appealed to the state legislatures that stayed away from the earlier inauguration to reconsider their stand, others called on the Governor to shift ground.
Chairman of the Edo state Chapter of the APC, believes the crisis has nothing to do with the party but expressed fears that the situation may remain if the other members refuse to offer themselves for inauguration.
Advertisement

When two elephants fight as the saying goes, the grass suffers. In this case, governance in Edo state will suffer as the state legislature cannot effectively function in the face of the ongoing crisis.