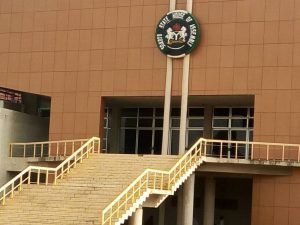 The ruling All Progressives Congress (APC) in Sokoto state says the party will not condone divided loyalty among its members.
This followed the crisis that rocked the state House of Assembly earlier in the week where members engaged one another in a free for all fight at the floor of the assembly.
The State APC Chairman who made this clear while speaking to newsmen at the State party secretariat, stated that the Party would not hesitate to punish any erring member.
TVC News Suleiman Nasir reports that party members in their thousands, thronged the state party secretariat in solidarity with the decision of the State House of Assembly to impeach the deputy leader of the House, Kabiru Ibrahim Galadima.
They are members of the ruling All progressives Congress (APC from Sokoto North local government led by the Chairman of the Local government area, Aminu Ibrahim with other party leaders from the local council.
They say their visit to  the party secretariat is also  to register their displeasure over the role played by a member representing Sokoto North 1 constituency Malami Mohammed Galadanchi.
But a handful supporters of the alleged erring member of the state House of Assembly Malami Mohammed Galadanchi. also stormed the party secretariat to show their support.
A little drama ensued as his supporters' protests  were drowned by chants of solidarity for the party leaders.  The youths engaged themselves in a fight.
The party chairman, Suleiman Usman expressed approval at the stand taken by the  House of Assembly  to suspend the erring members.