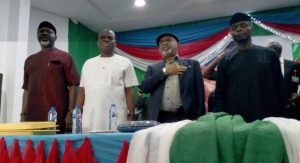 Vice President Yemi Osinbajo has called on members of the All Progressives Congress (APC), Anambra chapter, to be united and work for common purpose and progress of the party in the state.
Osinbajo made the call during a roundtable with stakeholders of the state APC in Awka on Friday.
TVC NEWS State House Correspondent Femi Akande reports that the Vice president's visit to Anambra state was the first after the presidential election.
The last time the VP was there, he was campaigning for votes, but Anambra state gave only a little over 33,000 votes to the APC. Also, At the general election, the APC lost all elective positions in the state to the dominant All Progressives Grand Alliance and the People's Democratic Party.
Professor Yemi Osinbajo was at the interactive session to talk about repositioning the APC in Anambra state in the next level era for an interactive meeting with members of the All Progressives Congress who make up the opposition in Anambra state.
It seems in Anambra, the house of the APC is divided against itself. For them the visit of the vice president was an opportunity to tell it all and it was no holds barred.
Indeed they got the attention of the Vice President, but the VP also had a frank talk with them on the need to be united.
Already, Anambra has two ministerial nominees that will be part of president Buhari's cabinet. But members of the APC in Anambra still ask for greater inclusion in the scheme of things.
The roundtable meeting and fence mending the APC in Anambra might get the needed momentum that will brighten their chance at the next governorship election election in 2021.