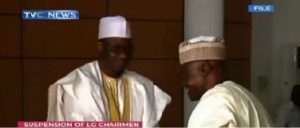 Following their suspension, the 16 local government chairmen in Kwara state have dragged the state government to court on contempt charges.
The erstwhile chairmen said they had a subsisting court order stopping their suspension or dissolution before they were suspended by governor AbdulRahman AbdulRazaq.
The local government chairmen were elected in 2017 on the platform of the All Progressives Congress, APC
They later defected to the Peoples Democratic Party, PDP in the run off to the
last general election.
Their tenure is expected to end in November next year but a resolution passed by APC-controlled state house of assembly recommended that governor AbdulRahman AbdulRazaq suspend the council chairmen and their councillors for 6 months over alleged misappropriation of public funds.
Now, the suspended local government chairmen are kicking.
They said the suspension order will not hold water because of a previous judgment asking them to continue to be in office till November next year.
They are suing the government for contempt.