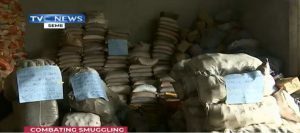 The Seme Command of the Nigeria Customs Service has intercepted several contraband cargoes with a combined value of about three billion naira.
Among the seizures were about one thousand, seven hundred parcels of cannabis sativa concealed with a dead human body along Nigeria, Seme border axis.
Even as Nigeria and the Republic of Benin are working to harmonise trade activities to foster legitimate business in the region, illicit traders have remained relentless as they continue to innovate in more ways to smuggle banned items into Nigeria.
Smugglers attempt to bring in more than 8000 bags of 50kg foreign parboiled rice, an equivalent of 14 trucks and about 1700 parcels of cannabis sativa valued at 30 million naira., some of which were concealed in a dead body were forestalled by officers of the Seme customs command.
About 2000 cartons of expired biscuits, food seasoning products, textiles, vegetable oil and different brands of vehicles were among the seizures made around the Nigeria, Seme border area.
Battling smuggling on land, would be a constant challenge considering the porous nature of the country's borders that are largely unmanned.