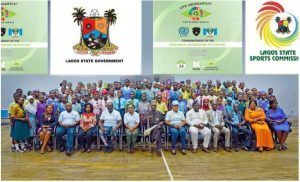 A non governmental organisation committed to investing in communities and promoting positive social change, Live Abundantly! has launched a child awareness initiative in Lagos.
Partnering with the International Organisation for Migration (IOM), National Agency for the Prohibition of Trafficking in Persons (NAPTIP), and the Nigerian Police Force (NPF), the organisation held its inaugural child awareness program at the Teslim Balogun stadium, Surulere, Lagos in an event that hosted pupils from more than ninety-three public schools all over Lagos state.
A representative of the IOM, Ms. Opeyemi Kolawole outlined major reasons why people embark on dangerous irregular migration and attributed it to poor financial conditions in Nigerian homes. She believes that with a little empowerment on the home front, families can avoid the scars and hurt that results from irregular migration.
CSP Rasaq Oseni , who was at the event on behalf of the DCP, SCIID Panti urged parents to be their kids' best friends. He believes when the children are confident, they are better prepared to fight against various forms of abuses. He noted the recent prevalence of suicide and attributed it to mood disorders and depression. He believes suicide is not the answer and that kids must believe in themselves and seek help when they need it.
A representative of the chairperson of TESCOM who is also the Acting TG/PS District 4, Lagos, Mr Oshodi revealed that the Ministry of Education has put in mechanisms to address issues of abuses and violations in public schools. He mentioned the use of suggestion boxes as well as the offices of registered guidance and counselling officers in various schools. He further stated that the capacity of some parents are largely inadequate, and therefore warned them to be on the look out and monitor online materials their wards have access to.
During the debate, National Agency for the Prohibition of Trafficking in Persons (NAPTIP) Principal Intelligence Officer, Mrs. Rosemary Ndulue noted that the organisation has been at the fore front of the fight against trafficking in persons. She revealed that the organisation is credited with the conviction of more than 392 persons with many cases still pending.
Other activities included video interview sessions, drama performances and photoshoots.
Some of the students who were interviewed at the events expressed their delight ant the opportunity given to them.  They believed they are now equipped with the right knowledge on what to do in cases of abuse or violation of rights.
Live Abundantly!®  was launched in 2016 as a platform for transformation in the attitude towards women and children.It committed to creating a respectful and secure society for all regardless of gender, age, socio-economic or physiological limitation through educational advancement.
Prince Gbenga Oguntayo is the Chairperson of Live Abundantly!.