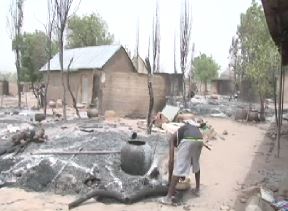 No fewer than fifteen people have died in an attack on three communities in Adamawa State, by suspected herdsmen. The raided communities share border with Taraba State.
Correspondent Owolabi Adenusi reports that survivors of the cruel attacks, gathered at the village square, grieving over their predicaments, with some trying to salvage what they could from their houses razed down by suspected insurgents in the midnight attack.
Sharing their experiences with TVC NEWS, they said their village came under heavy attack at about 10:pm, when many of them were already in bed.  The gunmen they said, surrounded the village with sporadic shooting renting the air, before setting their thatched homes ablaze.
They explained that at the end of the shooting, four people were killed. They listed that two elderly couple were burnt to death and their two grand daughters shot by the attackers.
"After we had our dinner we were resting my elder brother went out to hase himself behind the house they he saw our enemies hiding in the bushes. He quietly withdrew himself before he entered the house we had gunshots and we had them speaking in Fulani language then we heard sprodic gunshots all over the place. In panic we ran in all directions and escape with our children some of them even die. We don't know what to do now. We are praying to God to safe us from our enemies. We escaped into the bush and even up till now we have not see some of us. We are still searching for some of our missing children we are tired of this life and we need help for our survival. We don't have food to shelter all our livelihood had been burnt down by Fulani militiamen," Esther Japhet, survival of the attack said.
The Village head of Bolon, Robinson Filgona explained how they were attacked. According to him, numbers of casualties would have been more if the youths had resisted the attackers.
"When we heard gunshots, our youths came out with their bows and arrows to repel the attack. We had local weapons while our attackers had modern guns. When they started shooting, the whole village was thrown into confusion and panic.
"The bows and arrows we had were no match to the modern weapons wielded by our attackers. They overpowered us and chased us out of our village. This people are Fulanis but we don't know how many attacked us because it was late in the night, they were many..
"They continued shooting sporadically and then set our houses on fire. You have all seen the extent of destruction. Our foodstuffs were burnt, we cannot quantify it because we had abundant food in every household
"You can see under that tree, those are victims rendered homeless. No food to eat, His Majesty the King of Batta Kingdom brought us some food items which we are sharing to the victims. We thank him for this immediate intervention."
A community leader and House of Representatives elect from Numan, Demsa and Lamurde Federal Constituency, wants relevant authorities to assist the people who had been constantly attacked by suspected herdsmen. This view is shared by other political leaders.
The Police Public Relations Officer, Othman Abubakar said the police have been informed of the situation but were yet to get details of the attacks.
Farming communities in the two local governments seemingly in the bondage of suspected herdsmen are calling on government to intensify efforts towards restoring security of life and property to the area.