The Aku Uka of Wukari has raised concerns over fresh attacks by Tiv militia, on Jukun communities along the Taraba/Benue border.
The monarch, Ishaku Ada Ali disclosed this at the Government House Jalingo, revealing that several of his subjects were killed in unprovoked attacks by Tiv militias
This will be the first official visit of the Aku Uka of Wukari to Taraba State Government House Jalingo after last month's presentations of Staff of office to him and the Gara Donga.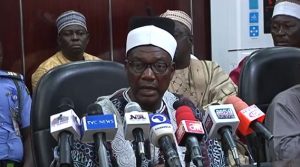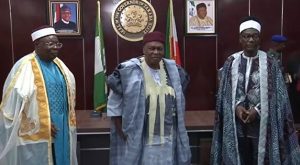 They were at the government house to thank the governor for his support which made the events a success and also use the opportunity to intimate the monarch of new security threats faced by his subjects from neighbouring Tiv communities in Benue state.
The Gara Donga on his part thanked the governor for his various contributions that ensured his ascension to his forefathers' throne.
Governor Ishaku advised the traditional rulers to serve their people and not oppress them.
He assured that his government will work with traditional Institutions for the betterment of the people.
The Ishaku administration had successfully ended the prolong Jukun/Tiv crisis, through various peace building processes.
This new threat to the peace in Taraba State is of great concern.
Again, the governors of Taraba and Benue may need to intervene and renew their peace efforts in order to put an end to the claimed attacks on Jukun settlements along the Benue border.