Brazil's Jose Marin has been sentenced to jail for four years.
Ex-Brazil soccer chief, Jose Maria Marin, was on Wednesday August the 22nd sentenced to four years in prison for engaging in dishonest & fraudulent business dealings as well as money laundering.
According to prosecutors, the ex- Brazilian soccer chief who once represented the continent's federation governing body was alleged to have taken millions in bribe in exchange for the media and marketing rights to several soccer tournaments such as the Copa America. Jose Marin Maria was ordered to forfeit $3.3 million in bribe receipts in addition to the jail term and also fined $1.2 million.
Jose Marin was last year found guilty of six of the seven counts against him and also convicted alongside Juan Angel Napout, who led South America's football governing body Conmebol. He will be sentenced at a later date.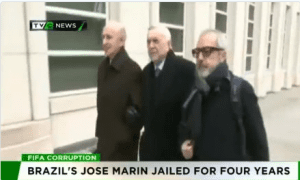 Peru's Manuel Burga was cleared of taking bribes by a jury in the USA.
Counsel to Marin, Charles Stillman said;
"We are disappointed in the length of the sentence, but nevertheless respect the judge's careful consideration of the relevant factors. Mr. Marin will be seeking to appeal his conviction."