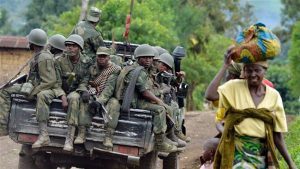 The International Criminal Court on Friday overturned the war crimes conviction of former Democratic Republic of Congo Vice President Jean-Pierre Bemba, a huge blow to prosecutors that could also dramatically shake up politics in his home country.
Bemba was one of only four people convicted by the permanent war crimes court in its 16 years of operation, and the highest ranking among them. He had been convicted of murder, rape and pillage for actions by fighters he sent to Central African Republic to back CAR's then-president Ange-Felix Patasse.
A crowd of hundreds of supporters cheered outside Bemba's party headquarters in the Congo capital Kinshasa, shouting "Our president is free!" and "Jean Pierre Bemba is our candidate!"
Judge Christine Van den Wijngaert said Bemba, once the leader of Congo's main opposition party, could not be held responsible for crimes carried out by troops under his control in CAR in 2002-2003.
Dismissing his 18-year-sentence, she said trial judges had failed to consider his efforts to stop crimes committed by his Movement for the Liberation of Congo (MLC) once he became aware of them, and how difficult it would have been for him to control the troops' actions from a distance.
"Mr Bemba cannot be held criminally responsible for the crimes committed by MLC troops during the Central African Republic operation," she said, reading the ruling of a 5-judge appeal panel. Bemba's efforts to stop the crimes "extinguished his responsibility in full".
His acquittal could revive a moribund opposition in Congo, where President Joseph Kabila, still in power after his mandate ran out in Dec 2016, looks likely to seek a third term on a legal technicality or by changing the constitution.
Congo government spokesman Lambert Mende said on Friday that Bemba had the right to return home if released.
Bemba ran against Kabila in 2006 elections that went to a run-off between them before Kabila won.
According to a nationwide public opinion survey by New York University's Congo Research Group in March, despite being absent for a decade Bemba would finish third in a hypothetical presidential race behind two other opposition leaders
ICC Prosecutor Fatou Bensouda called the appeal decision "regrettable and troubling". She noted that judges did not deny Bemba's troops had committed atrocities "which resulted in great suffering in the Central African Republic."
"The carnage and suffering caused by those crimes are very real and they are recognized," she told journalists.
Fiona McKay of the Open Society Justice Initiative said the decision was a "major blow" to Bensouda's office "given the vast resources that have been devoted to this case, which has lasted for more than 10 years."
"This was the first ICC case with a major focus on the use of rape as a weapon of war", she said.
Bemba's case had been seen as cementing the precedent that officials may be held liable for the actions of troops under their command.
He was not released immediately on Friday because he has also been convicted of witness tampering, and an appeals judgment in that case is still pending. The court called a status conference in his case for June 12, which Bemba's lawyer called "unacceptable" given that the maximum sentence on that charge is five years and Bemba has already been jailed for 10.
He said Bemba would probably go to Belgium to meet with his family there before returning to Congo after he is released.
Bemba, the son of a businessman, became rich during years of close association with former Congolese leader Mobutu Sese Seko. He entered government with Kabila in 2003 as part of a power-sharing deal that ended years of civil war.
Karine Bonneau of the International Federation for Human Rights said the decision was devastating for an estimated 5,000 victims of troops under Bemba who were awaiting the ruling.
The message "to warlords seems to be: when you're not at the scene, let your troops commit the worst crimes and worst abominations, then say you had nothing to do with it, and we won't condemn you."