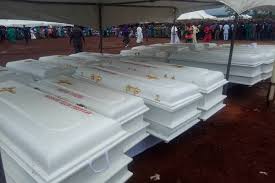 Integration Summit Group-Nigeria (ISG-N) has commiserated with the Catholic Community in Nigeria as well as the Government and people of Benue State over the continued attacks on hapless citizens of the state.
This came as two Catholic priests and 17 other worshippers who were killed by suspected herdsmen in Gwer local government area of Benue state last month were finally laid to rest in a mass burial on Tuesday, May 22, 2018.
The two priests, Rev. Fathers Joseph Gor and Felix Tyolaha, were killed during a mass along with 17 worshippers when the attackers invaded St. Ignatius Quasi Parish Ukpor-Mbalom in Ayar-Mbalom community of Gwer East LGA on Tuesday, April 24, 2018.
They were be buried at the Ave Maria Prayer Pilgrimage Ground, on the Ayati hilltop in Gwer LGA with Vice President, Yemi Osinbajo, joining mourners on Tuesday.
According to the group, this again brings to the fore, the worrying security situation in the country and the need for the federal government through the security agencies , to secure the lives and properties of citizens.
In a statement signed by the Convener, Dr Chris Ekiyor and the leadership of its senate arm, the group stated that it has become pertinent for ISG-N as a pan Nigeria group to call on the federal government to as a matter of urgency, evolve proactive steps to save the citizens from the menace of the Fulani herdsmen which it said, is not only seen in Benue state alone but in other parts of the country.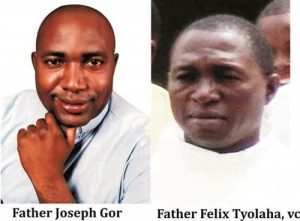 ISG-N lamented that the activities of the Fulani herdsmen has reached an alarming dimension with the recent attack on the parishioners which has provoked widespread condemnation and peaceful protest by the Catholic community across the country.
The group called on the federal government to deploy its security agencies in the affected states and to build intelligence network in the area in order to avoid subsequent attacks on citizens, while praying for the families of the dead and prayed for the repose of their souls.