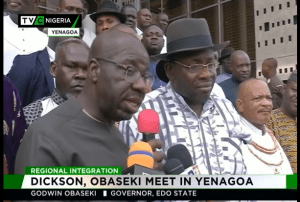 Governor Seriake Dickson and his Edo counterpart, Godwin Obaseki, have reiterated the need for regional integration, security and peaceful co-existence between the Ijaws and the Benin people of Edo state. Both Governors also expressed optimism that the federal government will implement the policy of restructuring and devolution of powers in Nigeria.
TVC News Correspondent, Ovieteme George reports that Edo state Governor Obaseki, had on 5th January, 2018 played host to the Edo Ijaws in Government House Benin.
While issues of disharmony are been sorted out the Edo Governor has come to Yenagoa at the invitation of Governor Seriake Dickson.  Both Governors are committed to peaceful co-existence between the Ijaw and Benin people.
Governor Dickson and his Edo counterpart also agreed to support and mobilize their states for the restructuring of Nigeria.
Advertisement

Dickson and Obaseki have resolved to pursue regional security and economic integration for peace and unity among the states and the Niger Delta.