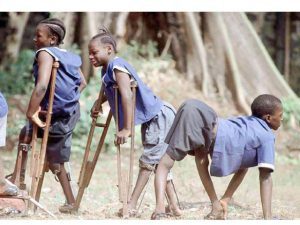 Nigeria has made remarkable improvement in eradicating polio from the society but it is not yet time to celebrate.
There is a plea for an executive order to be issued to enable compulsory vaccination in schools and gated estates.
Polio has been the cause of life time disability for many Children in Nigeria, making them a burden to themselves, their families and the society.
Over the years, world health organisation and UNICEF have partnered with government of the country to ensure periodic vaccination of children who are at high risk of contracting and spreading the virus.
But Nigeria is still one of the three countries that are yet to be declared polio free.
Delegation of the world health organisation met with the deputy governor of lagos state to discuss ways of improving and ensuring vaccination of children in the state.
Doctor Adamu says there has not been any reported case of outbreak in Nigeria since the past 33 months but identified Itire, Makoko and Maracana canal in Ajeromi-Ifelodun local government area as places that need urgent attention in Lagos.
He scores Lagos 89 percent saying the state has recorded the highest number of vaccination in the country.
Lagos state government is determined to always partner with the W.H.O to ensure a polio free state.
World health organisation officials say every child, regardless of whether they have been immunised before must get the booster supplementary dose and get their fingers marked for record purpose.