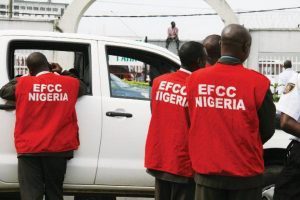 A Judge of the Lagos Division of the Federal High Court, Justice Muhammed Yunusa, accused by the Economic and Financial Crimes Commission (EFCC) of allegedly receiving bribes.
Justice Yunusa, alongside one Esther Agbo, who works in the law firm of Rickey Tarfa & Co., was arraigned on Wednesday before the Lagos State High Court in Ikeja.
In the five charges filed by the EFCC, the embattled judge was accused of collecting N1.5m from Agbo's boss, Mr. Rickey Tarfa (SAN), for the purpose of giving judgments favourable to the SAN's law firm.
It was alleged that Agbo, on May 14, 2015, paid N1.5m into Justice Yunusa's UBA account, numbered 1005055617.
The judge was also accused of engaging in constant private and confidential communications with Tarfa, who was handling three lawsuits marked FHC/L/CS/714/2015, FHC/L/CS/715/2015 and FHC/L/CS/716/2015 before him.
The EFCC further alleged that the judge received financial benefits in the sum of N750,000 from another SAN, Mr. Joseph Nwobike, between March and September 2015.
The anti-graft agency claimed that the judge received the money so he could give decisions in favour of Nwobike in some lawsuits.
The offence is said to be contrary to Section 64(1)(a) of the Criminal Law of Lagos State No.11, 2011.
But both Justice Yunusa and Agbo pleaded not guilty to the five charges when they were arraigned on Wednesday before Justice Sherifat Solebo. Counsel for Justice Yunusa, I. O. Mohammed, prayed the court to grant his client bail on self-recognizance. Mohammed assured Justice Solebo that his client would not jump bail but make himself available for trial, adding that he had too much to lose to contemplate jumping bail and absconding.
"My Lord, all the charges are bailable offences, and I am, therefore, asking that my client be granted bail on self-recognizance. "The first defendant is a serving judge of the Federal High Court.  In fact, he is a well-known Nigerian and cannot be a flight risk.
"In fact, he is still listed as a serving judge in the Federal Government's official gazette," Mohammed said. A lawyer in the chambers of Rickey Tarfa & Co., Mr. Olusegun Odubela (SAN), who appeared as counsel for Agbo, similarly urged the court to admit her to bail, pointing out that she was a nursing mother.
"The second defendant is a nursing mother who gave birth through caesarian operation.
"I pray the court to grant my client bail in the most liberal terms as she is not going to be a flight risk.
"She has worked with Rickey Tarfa chambers for 10 years, the same chambers I have worked with for the past 28 years," Odubela said.
Ruling on the bail applications, Justice Solebo granted Justice Yunusa bail on self-recognizance, while Agbo was admitted to bail in the sum of N1m.
She held, "The first defendant is hereby granted bail on self recognisance without any financial obligation. The EFCC is also directed to, within seven days, deposit the travelling documents of the first defendant with the court registrar.
"The second defendant is also granted bail of N1m with two sureties who must show evidence of tax payment which must be verified by the court," the judge ruled.
She adjourned till February 20, 2018 for commencement of trial.