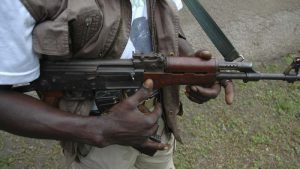 The Police say they have identified the group responsible for Monday's attack on Mgbuosimini community in Port Harcourt, Rivers State.
The gunmen invaded the area in the early hours of the day, killing 15 persons.
Spokesman of the state police command, Nnamdi Omoni confirmed that a manhunt is on for the killers, whom he identified as members of a dreaded cult group.
He added that the suspects would be declared wanted and their identities released to the public.
Despite this update from the police, the motive for the attack is still unclear as there is so far no established link between any of the victims and cult related activities.
For now the police have reassured residents of Mgbuosimini and environs that adequate steps have been taken in order to prevent another outbreak of violence in the area.