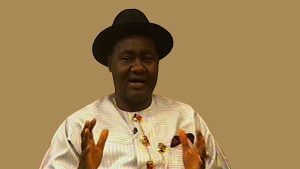 A member of the Senate Committee on Environment, Senator Magnus Abe has assured Nigerians that the ongoing cleanup of Ogoni community in Rivers State would not be abandoned as been speculated in some quarters.
He made this known during one of the sessions of the ongoing 11th National Council on Environment meeting, held in Abeokuta, Ogun State.
The Senator who stood in for the Chairman of the Senate Committee on Environment, Senator Oluremi Tinubu pleaded for understanding and cooperation of all stakeholders and assured them that the national assembly will provide proper oversight to make the project a success.
On his part, the Minister of State for Environment, Ibrahim Usman, called for involvement of the private sector in the implementation of UNEP report on the cleanup, noting that the collaboration of private sector will bring
a desired result in the environment sector
The host Governor, Ibikunle Amosun on his own wants stakeholders to use environment to generate money into the purse of the government, adding that his government has embarked on massive tree planting to combat deforestation.