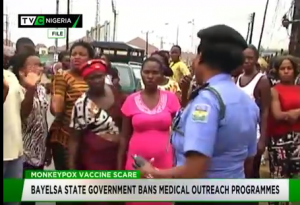 The Bayelsa State Government has said it will not permit any vaccination or form of medical outreach for now.
The decision was communicated to journalists at a joint news conference of the Ministries of Health and Information following a Monkeypox vaccine scare which forced parents to make panic withdrawal of their children and wards from some private schools.
Our Correspondent reports that the government, in trying all its best to allay the fears of the people,  has gone ahead to halt any planned medical outreach in the state.
Meanwhile, the Federal Government insists there is no vaccine against monkey pox.
Speaking through its National Centre for Disease Control, it denies executing vaccination against monkeypox in the South-East or any part of Nigeria.
The National Coordinator of the NCDC, Chikwe Ihekwazu, who appeared before the Senate Committee on Primary Health and Communicable Diseases on Friday, stated that the disease has no vaccine and the government was not conducting any immunisation for it.