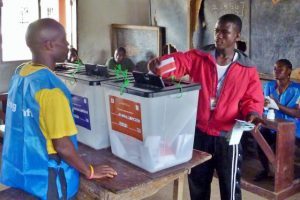 Liberians go to the polls this Tuesday to elect the successor of President Ellen Johnson Sirleaf, Africa's first female president.
Twenty candidates are standing to replace Johnson Sirleaf in a first round.
Among the front-runners seen as likely to win a place in the run-off, are Vice President Joseph Nyuma Boakai, representing the ruling Unity Party, and football star George Weah, who lost to Johnson Sirleaf in 2005.
According to the electoral commission, over 2 million registered voters will also vote for 73 lawmakers out of the 986 aspirants.
George Weah, 51, went into active politics as a candidate in the 2005 presidential election but lost to Ellen Johnson Sirleaf in the second round of voting.
In 2011, he run again as a vice-presidential candidate on the ticket of Winston Tubman but failed. He was later elected in the Senate in 2014.
Vice President Boakai, 72, is holding the post since 2006. He was previously the Minister of Agriculture from 1983 to 1985 under President Samuel Doe.
He studied business administration in the United States after early education in Sierra Leone and Liberia.
Liberian President Ellen Johnson Sirleaf rallied her citizens on Monday on the eve of the presidential elections.
President Sirleaf, who won the Nobel Peace Prize for helping bring peace after the civil war said it would be the first time in three generations Liberians will be transferring presidential authority democratically and peacefully.
The 78-year-old has many accomplishments to boast since she became Africa's first modern female head of state.
The economy is four times the size it was when she took office in 2005.
Liberia gained its independence more than a century before the rest of Africa, and elected its presidents since 1847.