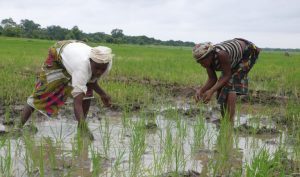 Agriculture remains critical in promoting growth and long-term sustainable economic development of Nigeria.
This was the agreement at a stakeholders meeting which had in attendance the Minister of Agriculture, Audu Ogbeh, state governors and other sector stakeholders, who sought to consolidate the collective efforts of the monetary and fiscal authorities.
Ogbeh said despite the levels of unemployment in the country, agriculture remain vital in diversifying the monolithic economy from oil.
The outcome of the meeting was expected to significantly improve the agricultural output, drive economic growth, reduce unemployment among youth and increase national cohesion.