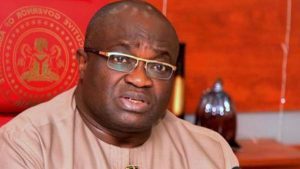 Abia State governor, Okezie Ikpeazu, has assured that Governors are committed to ensuring Nigerians are safe and free to carry on their businesses in whatever part of the country they find themselves.
Ikpeazu who met with Vice President Yemi Osinbajo,warned that citizens should seek to build confidence in the Nigerian state rather than tear it apart with their utterances.
Statehouse Correspondent Tai Amodu reports that Abia state had been the theatre of war over the past one week as the Nigerian state finally decided to deal with the increasingly divisive moves and utterances that had become the hallmark of the agitation employed by the Indigenous People of Biafra movement
But one man whose wisdom and tact went a large extent to forestall a complete breakdown of law and order is the Abia state Governor, Okezie Ikpeazu
He was in Abuja to give a situation report to Vice President Yemi Osinbajo and speaking afterwards with Statehouse Correspondents, acknowledged that the show of Federal might against IPOB was expected considering the group's
anti-state activities
There have been calls from many quarters that Nnamdi Kanu's father a traditional monarch should be deposed by the Abia state Government for the part he played in the insurrectionist agenda of his son, but Governor Ikpeazu believes such matters will be addressed by the traditional institutions in due time
The Governor disclosed that his meeting with the delegation of Northern Governors who had come down to Umuahia, had been a forum to exchange assurances that Nigerians were free to live and pursue their businesses in
whatever part of the country they found themselves
He is of the view that the enterprising people of the South East cannot in the twenty-first century, afford to be boxed within a small geographical space but must seek to live at peace with their fellow Nigerians wherever they find themselves.
The Governor charges all to be mindful of the effect utterances they make can have on the eleven percent of people of South Eastern extraction who do not live in their region but are spread far and wide, in places, not only within but outside Nigeria.