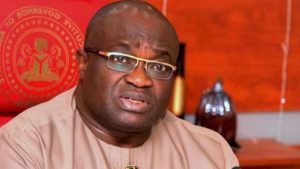 The Abia state Governor, Okezie Ikpeazu, has reached an agreement with the Nigerian Army, for troops to be withdrawn from Aba and Umuahia.
Ikpeazu who made the announcement in a broadcast in Umuahia on Thursday, said the troops will begin to leave tomorrow.
He said the situation in the past few days, which led to the deployment of soldiers ahead of `Operation Python Dance II', a military exercise by the Nigerian Army, had generated great concerns to both the government and the people.
"I will also be meeting the President and Commander-in-Chief of the Armed Forces, President Muhammadu Buhari, to discuss possible ways of relaxing Operation Python Dance II in the state for now."
Advertisement

 He added that the withdrawal would not affect pre-existing military checkpoints at various locations in the state and warned mischief makers to stay away from Abia, warning that agitations and protests would not be tolerated.
"Mischief makers who want to use Abia as their base, let me announce to you that henceforth, Abia will be too hot for you to carry out your wicked acts.
"The state government will work with security agents to ensure the protection of lives and property without fear or favour. There will be no hiding place for you."
He also urged residents of Aba to fully observe the current curfew in the city and ensure that they cooperate with security agents to maintain peace and order.