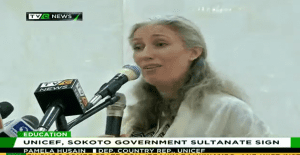 Sokoto State, Governor Aminu Waziri Tambuwal has pledged that his Administration will continue to fulfill all obligations entered into with development partners aimed at improving the well-being of the people of the state.
Tambuwal  spoke at a high level community and engagement forum between selected ministries, the Sultanate council and the UNICEF Centre on Education, Health, Hygiene and Sanitation in Sokoto state.
The governor said the forum  provided the state a unique opportunity to engage with partners so as to improve the lives of the people of the state.
TVC News Suleiman Nasir reports that the forum is aimed at improving the overall school enrollment, retention and transition of  pupils thereby reducing the number of out of school children in Sokoto state.
It is also to address challenges in the health sector as well as issues of water and Sanitation among people of Sokoto state.
The parties involved in this engagement include the state ministries of education, Health and Water resources, as well as  the Sultanate Council and the United Nations Children Education Funds (UNICEF).
A tripartite memorandum of understanding was signed to mobilize and sensitize  the community of over 4.5 million people in Sokoto state.
The need to create awareness was stressed by the UNICEF Deputy country rep Ms Pamela. She commended the commitment of traditional and religious leaders to the programme.
Governor Tambuwal added  that to address the obvious gaps in service demand, which has earned the state an unhealthy outlook on the human development dashboard, the state has set up a high level advocacy community engagement forum headed the state deputy governor Ahmed Aliyu Sokoto.
It has become imperative that the Sokoto state Government, collaborates with all stakeholders if sustainable development goals are to be attained in the state.