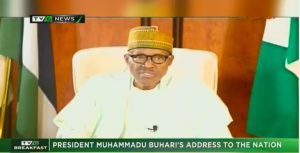 A frontline traditional ruler in Osun state, the Oluwo of Iwoland, Oba AbdRasheed Akanbi says the health of President Mohammadu Buhari can carry him even beyond his first term in office.
Oba Akanbi who stated this at a special national prayer he organised for the president, predicted that the president will spend 8 years in office.
The prayer centred, majorly, around the health of president Muhammadu Buhari and good governance.
Oba  Akanbi said he decided to organise the prayer in accordance with the Quranic injunction which commands followers to pray for their leaders.
And with the safe return of the president from his overseas medical trip, the Iwo monarch says he's good to go for another term.
Participants at the prayer also said the president deserve the prayer of all Nigerians.