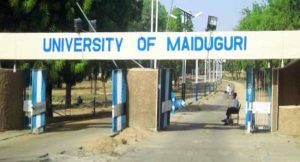 After suffering sixteen attacks in six months from insurgents, the authorities of the University of Maiduguri are contemplating a closure of the institution to avert a more catastrophic attack.
But the House of Representatives  does not buy this school of thought.
The Lower Chamber has urged the Federal government, to put in place security measures that would restore tranquility at the Federal University of Maiduguri in Borno state.
Part of this measure should include deployment of appropriate technologies for comprehensive surveillance and detection of security breaches at the University.
Advertisement

Some lawmakers also called for a quick intervention to avert it's closure, due to the high level of intellectual and human resource, that is gotten from the institution.
Others believe not check mating these attacks, by the Federal Government is tantamount to indirectly advancing the mission of the insurgents.