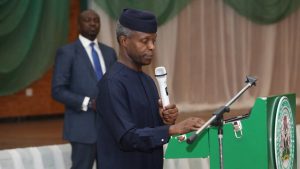 Nigeria's Vice President Yemi Osinbajo is in France to attend an Anti-Corruption & Integrity Forum holding in Paris from March 30th to the 31st.
He arrived late on Wednesday, where he was received by Officials from the Nigerian Embassy at the airport.
The vice president is one of the speakers at the global anti-corruption conference, convened by the Organisation for Economic Cooperation and Development.
Prof. Osinbajo will also hold bilateral talks with the Secretary-General of the organization, on how to strengthen mutual cooperation between Nigeria and the organisation.
He's also billed to hold a number of meetings with the French Minister, Bernard Cazeneuve.