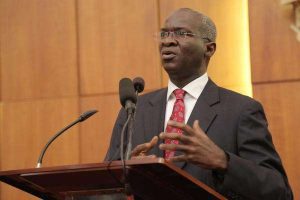 The Minister of Power, Works and Housing, Babatunde Fashola has replied the Chairman of the Senate Committee on Appropriation, Senator Danjuma Goje, over the comments the senator made about his ministry.
According to Fashola, Senator Goje's reference to the patriotism of legislators should not be spoken but demonstrated with regard to his calls for a more developmental budgeting approach.
He stated that he expected the lawmakers to respond to the issues he raised rather than accuse him of blackmailing the legislature.
Fashola explains that his comments about the budget were as a result of his desire to function effectively.