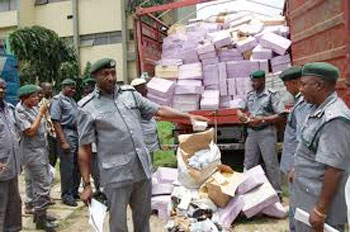 The Nigerian Customs Service has seized contrabands worth 1.3 billion Naira, and arrested twenty three suspects in connection with the seizures.
The compliance team of the service says the seizures were made in the last two months.
The items include 591 assorted banned goods ranging from poultry product, vegetable oil, second hand clothing, and rice among others.
Addressing newsmen in Kaduna state, northwest Nigeria, the customs officials said the goods have been smuggled into the country through the porous borders by land.
They noted that the ban on importation of rice through the land border has not been lifted.
Lifting the ban, according to them would jeopardise huge investment of local rice farmers, and state governments on rice production in Nigeria.
On a final note, a stern warning was sent to those involved in smuggling of contrabands into the country.
Stay clear of illegal importation. You risk jail terms should you remain defiant.