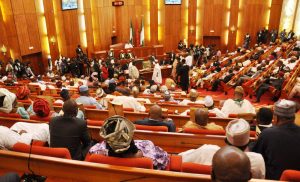 The Senate  has rejected the proposed sale of national assets to shore up foreign reserves. The senate took the decision on Tuesday at the resumed plenary after extensive deliberation.
It rather Adopted recommendations on recession debate.
Also, the senate has resolved to investigate an alleged 13.92 billion dollars money laundering involving, MTN, four banks and Minister of Industry, Trade and Investment, Okechukwu Enelamah.
The motion was moved by Senator Dino Melaye who disclosed that the telecoms company may have connived with some influential Nigerians.
Enelamah's company, CELTELCOM Investment Ltd is alleged to be involved in the illegal repatriation of funds before he became a minister.
Senate has also resolved and mandated that its Committee on Banking, Insurance and Other Financial Institutions carry out a holistic investigation into the allegations of money laundering against MTN & Enelamah and report back in two weeks.