A statue of Medusa recently unveiled in a Manhattan park and intended as a homage to the #MeToo movement has drawn criticism from feminist groups.
The statue of the Greek mythological figure clutching a severed head was unveiled Tuesday in Collect Pond Park which is purposefully located across the street from the courthouse where Harvey Weinstein was convicted.
While some have praised the work as a powerful image for the #MeToo movement, it has drawn criticism from others who questioned why the work was done by a male sculptor.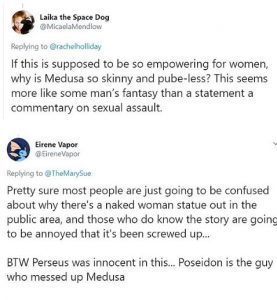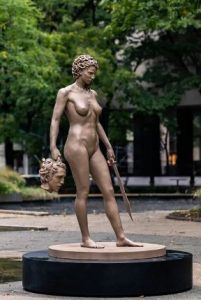 In Greek mythology, Medusa was raped by the powerful god Poseidon but instead of Poseidon being punished, Medusa was blamed for defiling Goddess Athena's sanctuary and turned into a monstrous beast with snakes for hair, as well as a gaze that could turn men into stone.
The Greek hero and slayer of monsters Perseus was then sent to sever the head of Medusa.
But Mr. Garbati decided to reverse the narrative, instead showing an indomitable Medusa clutching a severed head of Perseus.
In his application for the statue, Mr. Garbati said the original work by Cellini had 'communicated to women for millennia that if they are raped, it is their fault'.
'She is alive after the battle with Perseus and that is significant,' Mr. Garbati said.