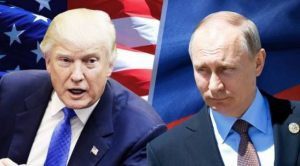 Russia and the United States on Thursday blamed each other for abandoning a landmark arms control agreement on missiles, with Moscow warning of a new arms race.
The Trump administration also demanded details of a recent mysterious explosion that killed five Russian nuclear engineers.
Russia called a U.N. Security Council meeting on the matter following the U.S. test of a missile banned by the 1987 intermediate-range Nuclear Forces Treaty, which both countries withdrew from on Aug. 2.
Russia's deputy U.N. ambassador, Dmitry Polyansky, criticized what he called American "hypocrisy," saying the U.S. "consistently and deliberately violated the INF treaty for some time." He said the missile test on Aug. 18, so soon after the treaty's expiration, proved it.
Acting U.S. Ambassador Jonathan Cohen countered that Russia decided more than a decade ago to break its INF treaty obligations and has deployed multiple battalions of ground-launched cruise missiles "with the ability to strike critical European targets."
The council meeting put on vivid display the deep distrust between the two nuclear powers, and the anxiety of other nations about an escalating arms race including with China.
America's NATO allies joined Cohen in blaming Russia for what France's deputy ambassador, Anne Gueguen, called "the death of the treaty."
Britain's political coordinator Stephen Hickey, said Russia's actions "are in line with a pattern of aggression that represents a clear threat to international peace and security" and undermine its claim "that it is a responsible international partner."
Gueguen warned that "it would be a dangerous step backward to engage in a new arms race."
Russia's envoy directed key remarks to NATO's European council members — Britain, France, Germany, Belgium and Poland. Polyansky asked whether they understand that by supporting the U.S. "step by step, you are returning to a historic situation when missiles were targeting European cities from different sites."
Polyansky urged the Europeans to realize "that because of the U.S.'s geopolitical ambitions we are all one step from an arms race that cannot be controlled or regulated in any way."