President Muhammadu Buhari has met with British Prime Minister Theresa May at 10 Downing Street, London
The details of the meeting though held behind closed doors focused on economy, fight against corruption and security.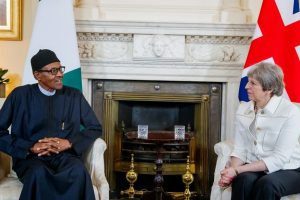 Buhari told his host that politicians are already preoccupied with next year's elections but he is bothered about security and economy.
"At the end of the meeting, President Buhari thanked Prime Minister May for Britain's efforts at the training of the Nigerian Armed forces in fighting Boko Haram", according to a tweet by special assistant on new media to President Buhari, Bashir Ahmad.
Prime Minister May in her remarks said Britain would continue to work with Nigeria in the areas of training and equipping the military.
The Nigerian President is in the United Kingdom for the Commonwealth Heads of Government Meetings scheduled for April 18 to 20.