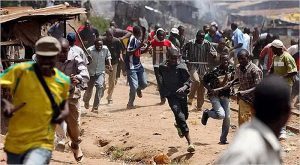 President Muhammadu Buhari has expressed sadness over what he called the senseless killing of persons, especially women and children in the night attack in Plateau.
The President equally expressed disappointment at the disruption of peace and normalcy that have reasonably taken root in the state, and urged stakeholders not to allow this violent incident to destroy the progress made so far.
The President, in a statement signed by his Senior Special Assistant on Media & Publicity Garba Shehu said it is unlawful of anyone or group to take the laws into their hands in the name of revenge or reprisals,rather than follow due process by allowing law enforcement agencies do their job.
According to President Buhari, the various communities in the state have taken many steps, with the support of security agencies and mediators to pull the state back from the brink of anarchy and senseless killings warranted by attacks and counterattacks."
He therefore urged all communities in the state and the other parts of the country to embrace peace and bring to a stop what he called painful and unnecessary killings.