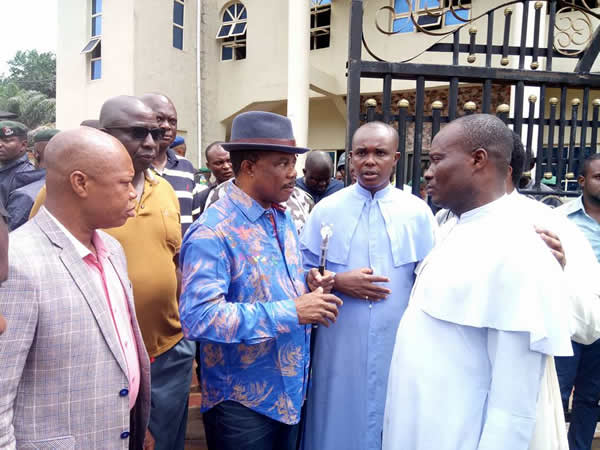 Anambra Police Command has made public the two perpetrators of recent brutal killings of worshipers at St. Philip Catholic Church, Ozobulu, who according to them are currently serving jail terms in South Africa.
The Command disclosed that the incident that claimed 18 lives and 10 injured was masterminded by the duo, who are indigenes of Nnobi and Oba in Anambra state.
The suspects had earlier before their arrest, vowed to carry out more attacks if their financial demands for undisclosed reason were not met.
Correspondent Bamidele Ajayi reports that the Police in their investigation revealed that the two culprit, Prince Charles Obi a.k.a Gozila and his business associate Dickson Nwodi a.k.a Afiam have confessed to the crime and are currently serving jail term in South Africa.
CP Umar further opined that the INTERPOL is currently investigating the incident; possibly to extradite the suspects from South Africa to complete their case in Nigeria.
While responding to questions, the Anambra Police boss revealed that interim investigation so far has absolved the foremost suspect, Aloysius Ikegwuonu a.k.a Bishop's involvement in the killings.
CP announces that three suspects in connection with the ugly incident are currently in their custody and would be arraigned in court on charges of Conspiracy and Murder charges.
The Police Commissioner however assured the public that all persons involved in the dastardly act will all be brought to book.