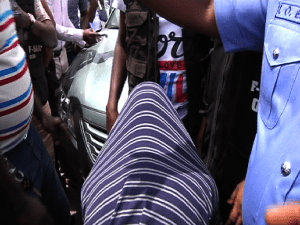 Lagos state command of the Nigeria police has arrested a suspected hacker, who is part of a syndicate specialized in generating fake payment for goods worth millions of naira.
Correspondent Theophilus Elamah reports that parading the suspected criminals before the press, the Lagos state Commissioner of Police, Edgal Imohimi, explained that the suspects were apprehended for various crimes including Kidnapping, cultism, cyber crimes among others.
What caught everyone's attention was the arrest of a suspect who specialised in perpetuating crimes via the internet.
The Commissioner further explained that the suspect, during interrogation, led detectives to Asaba and Delta states where vehicles purchased illegally were recovered.
The Suspect further corroborated the report given by the commissioner of Police.
The C.P called on Nigerians to help the police fight crime by volunteering information that will be useful to the force. Also on parade were suspects arrested for crimes like kidnapping, conspiracy and murder and armed robbery.