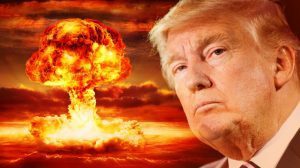 U.S. President Donald Trump said he was prepared to meet North Korea's Kim Jong Un in what would be the first face-to-face encounter between the two countries' leaders and potentially mark a major breakthrough in nuclear tensions with Pyongyang.
Kim has "committed to denuclearization" and to suspending nuclear and missile tests, South Korea's National Security Office head Chung Eui-yong told reporters at the White House on Thursday after briefing Trump on a meeting South Korean officials held with Kim earlier this week.
"A meeting is being planned," Trump posted on Twitter after speaking to Chung, setting up what would be his biggest foreign policy gamble since taking office in January 2017.
Chung said Trump had agreed to meet by May in response to Kim's invitation. A senior U.S. official said later it could happen "in a matter of a couple of months, with the exact timing and place still to be determined".
South Korean President Moon Jae-In, who led the pursuit of detente with North Korea during his country's hosting of the Winter Olympics last month, said the summit would set a course for denuclearization on the Korean peninsula, according to a presidential spokesman. Trump had agreed to meet Kim without any preconditions, another South Korean official said.
Asian stock markets rose on the news, with Japan's Nikkei .N225 up 0.5 percent and South Korean stocks .KS11 up more than 1 percent. The dollar also rose against the safe-haven Japanese yen JPY=. [MKTS/GLOB]
"It's good news, no doubt," said Hong Chun-Uk, chief economist at Kiwoom Securities in Seoul. "But this will likely prove to be only a short-lived factor unless more and stronger actions follow."
Trump had previously said he was willing to meet Kim under the right circumstances but had indicated the time was not right for such talks. He mocked U.S. Secretary of State Rex Tillerson in October for "wasting his time" trying to talk to North Korea.
Tillerson said earlier on Thursday during a visit to Africa that, although "talks about talks" might be possible with Pyongyang, denuclearization negotiations were likely a long way off.