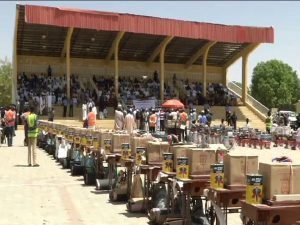 The Katsina State Government has economically empowered yet another two hundred and fifty graduands of the Katsina Youth Craft village.
The centre was set up to train and engage all categories of Youths in worthwhile Ventures, in line with the Manifesto of the All Progressives Congress and as part of the Masari administration's efforts to build and secure the future of the people of the state.
TVC News Katsina Correspondent, Awwal Ibrahim reports that the Katsina state Youth Craft Centre is a place where Youths of both sex are given the opportunity to choose and learn one out of the fourteen modern crafts techniques as a sustenance of livelihood and self-reliance.
The Craft Village has so far trained up to 5000 (five thousand Youths) within the three years of the Governor Masari administration.
The Governor is excited as another batch of two hundred and fifty five trainees are graduating today and are now fit to own businesses of their in their respective fields of endeavour.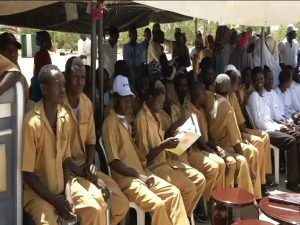 The beneficiaries are also given proper Counseled against engaging in sharp practices, with monitoring teams set up in all the 34 Local Government Areas of the state, to check their level of progress.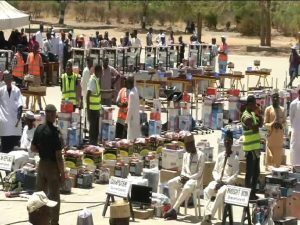 750 Youths are normally selected for every batch without any form of discrimination and are provided with free feeding and accommodation throughout the length of the training.
Some of the Graduands told TVC News that they are now eager to start up their own businesses.
Some of the earlier Graduates of the centre have found their feet and are now employing additional hands.