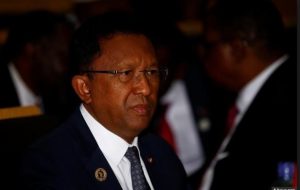 Madagascar police fired teargas at opposition demonstrators protesting against new electoral laws they say are designed to lock out their candidate from a presidential election due later this year.new electoral laws
Hundreds of protesters gathered in the center of the capital early on Saturday to protest against the laws which were enacted by parliament earlier this month, before police dispersed the protests by firing dozens of teargas canisters at the crowd.
 One opposition lawmaker accused the government of attacking opposition MPs while carrying out their work and demanded the president's resignation.
 "(President) Hery Rajaonarimampianina has to resign, he attacks members of Parliament which are in the line of their duty," said Paul Bert Rahasimanana who represents a constituency in the capital.
"We just wanted to do some report on the adoption of electoral laws and he sends us forces of repression."
Supporters of Marc Ravalomanana, a former leader of the island nation, say the new electoral laws are designed to prevent him running in the election. The opposition is also contending provisions on campaign financing and access to media in the laws.