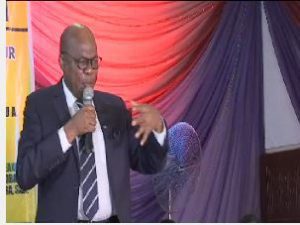 Speakers at the 2020 Gani Fawehinmi Annual Lecture have advised Nigerians, especially the Bar Association to emulate the late lawyer and philanthropist.
Kemi Fola-Adeyemo reports that the event also produced vibrant discussions on whether Nigeria's federal structure is appropriate, and if the judiciary isn't under threat.
Family members, lawyers, jurists and other admirers of Ganiyu Fawehinmi again gathered for the 2020 lecture in his honour.
The programme which was 16th, organised by the Ikeja branch of the Nigerian Bar Association ensured that the renowned senior advocate ensured the programme outlives him is further proof of his large heart.
Chairman of the planing committee, Monday Ubani, said no lawyer, dead or alive, has rivaled Chief Fawehinmi's immense contributions to human rights and public interest litigation.
Some of his pupils who have now risen to enviable heights in the profession,  addressed the judiciary and the nation's federal structure, but members of the judiciary also reflected on the challenges hampering their work.
Gani Fawehinmi may have passed on, but his legacies live on and the legal community is now expected to carry on in robust activism for a better Nigeria.